The 5th of May is International Midwives' Day.  We love our midwives. To celebrate this special day we asked women to share with us something that their midwife said or did that they will never forget. These are just a few of their responses: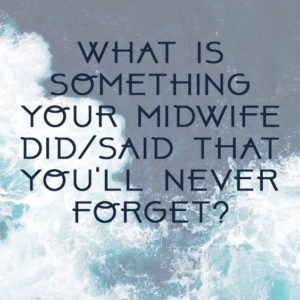 Elise  Nothing. But the way she did nothing meant everything to me. At my request she sat quietly in a corner and did nothing but hold my precious space for me so that I was able to completely surrender to the wonderful process of birth and bring my baby earth-side all by myself. This was such a gift and set me up from the very beginning of my journey as a mother to trust my body, trust my baby and trust my intuition ❤️
Silvia  While talking about my previous traumatic birth, Janine O'Brien said to me 'you did nothing wrong'. They may seem obvious words but no one ever told me those exact words. And in that moment I feel my healing journey began. ❤️❤️
Louise  "You're doing really well."
(After I said I couldn't do it, at a time I was mentally preparing myself for giving up, and hospital transfer and csec and possible death) And I instantly calmed down and was like… Oh. Ok. Go me.
Thanks Melanie Jackson 👌❤️
Dalyn  "That was the calmest birth I've ever attended, you could have had that baby at home by yourself" it made me feel very proud 💪🏻
Oanh  Janine O'Brien said to me "gather all strength of the women before you"… when I told her I was exhausted and wanted to give up.
Felicity  My amazing midwife Jo Hunter said to me, "You've got this Love" pretty much all the way through my pregnancy and in the labour and her conviction in that statement really helped me achieve my amazing HBAC. Couldn't love her more ❤️️
Jamie  That I could do it. She believed in me when on the surface I said I could do it but deep down I still didn't know. She gave me comfort just by having her present at my appointments and birth and knowing that she actually cared!
Josi : "Do your own research" Janine O'Brien was our guide through our entire pregnancy and beyond, forever educating us and pointing us in new and amazing directions.
Aimee:  "You're safe" and "Everything is going beautifully" when I freaked out in transition and decided I couldn't do it anymore. It made me feel held, understood, cared for and safe, and reassured me that there was nothing wrong and nothing to fear <3 I was holding my beautiful baby 15 minutes later Thank you, Jo 😘
Ruby  I had the same midwife for all three pregnancies, births and post natal. She is a wonderfully supportive, intuitive and respectful midwife and held the space for me. You need a strong and compassionate person like that ☺️
Erin: Sonja MacGregor took me on without hesitation for a HBA2C when I had been stripped of all belief in my own ability. She made personal sacrifices to support me and I will never forget and always be grateful. My life would be completely different without that support. <3
Molly:  I have had the same midwife for both my births. She was absolutely amazing
I found it really important to have someone with so much knowledge and faith in births there for me holding my space. And when things got challenging in my second birth I can't express how valuable she was in knowing what to do and helping my baby arrive safely. The continuity of care through my pregnancy, birth and postpartum was amazing and I am so grateful to have had someone who listened to me and respected my choices ❤️
Thank you to all the Superstar Midwives in our lives.